How to build your own page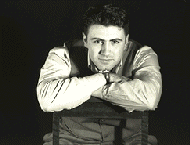 This page is Netscape Enhanced. Go ahead and download the version you like best.

Aboliamo la TUT: La Telecom Italia, approfittando della posizione di monopolista del mercato italiano delle comunicazioni CI IMPONE delle tariffe che non hanno eguali nel mondo ! (negli U.S.A. per 12 $ / mese vengono concesse 150 ore al mese di telefonate urbane). Non esitare, firma anche tu per abolire la TUT e........passa parola !
---
Support the Campaign !

---
This page has been accessed

times since September, 03, 1996.